Misconceptions about who's opting in for patient financing could be costing your organization money. To help healthcare providers and RCMs get a clear picture of the average patient borrower, Epic River reviewed the loan data of more than 30,000 patients. The results may surprise you.
We found that patients seeking financing for their medical expenses are great loan candidates. Ninety-five percent (95%) of patients were in good standing on their loan status, making regular monthly payments—a win-win for patients and providers.
The average patient borrower had a favorable profile:
650-750 credit score
Own a Single-family home with $100K in equity
45-60 years old, married with one or more children
$75,000 annual income (HHI)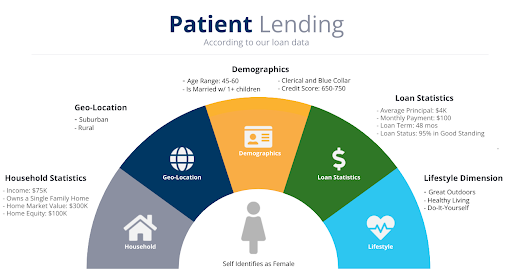 The typical medical loan principal across the data we surveyed was $4,000 with loan terms of 48 months. Patients were making manageable $100 monthly payments as evidenced by the good standing of all but 5% of these loans.
Patient Borrowers: A Safe Bet
By and large, patient borrowers are upstanding members of the community in need of financial support to pay their medical bills. They live in suburbia and rural America, earn a respectable living doing clerical and blue-collar work, and raise families. They are well-rounded individuals who enjoy the great outdoors, pursue projects around their interests, and care about their health. These are not major loan risks with bad credit or a propensity not to pay.
What this Means for Providers and RCMs
This is good news for providers and RCMs struggling to maintain cash flow while keeping expenses down and revenues up in a shaky economy. Patient financing is a solution that can work for all stakeholders when done through a reputable lending partner. Patients are more likely to get the care they need when needed, and providers can shore up their bottom line. Offering patient financing is an effective way for hospitals and RCMs to:
Improve your cash flow
Reduce your accounts receivable
Reduce collection costs
A patient lending program doesn't have to be a burden (and shouldn't). The Epic River platform makes it easy for providers and RCMs to offer a patient lending solution that works for everyone. We connect healthcare providers and RCMs with trusted local community banks and credit unions to facilitate long-term, low-interest-rate loans for patients who can't afford a lump sum payment. The result is improved cash flow for providers and affordable payment plans for patients.
Discover Epic River's frictionless patient lending solution today.