InnovatioNews.com Article
by Steve PorterThe software developers at Epic River were nearly stacked on top of each other before they moved to
Rocky Mountain Center for Innovation and Technology
(RMCIT) last January.
Today, they're basking in a roomy, well-lit, high-tech space in Building D of the center, which occupies most of the former Agilent campus in southwest Loveland.
And there's tons of room to expand for the rapidly growing company, as it and one other company – DataTraks – remain the sole occupants of RMCIT so far.
"It's removed one of the fears of growth," said Jeff Grobaski, Epic River co-founder and senior partner "We're probably going to have to expand again within the next 12 months, and it's not scary."
Epic River has grown quickly in its nine years of existence, starting with just three staff in 2005. The custom software company now employs 25. In addition to Grobaski, the company is led by co-founder and senior partner Steve Wood and managing partner Scott Mead.
Grobaski said many factors have contributed to the company's growth and success and staying power, but one stands out.
Check out the rest of InnovatioNews.com's article, Epic River takes Customized Software Development to a Higher Level at RMCIT in Loveland.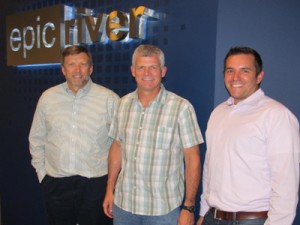 Epic River's (from left) Steve Wood, Scott Mead and Jeff Grobaski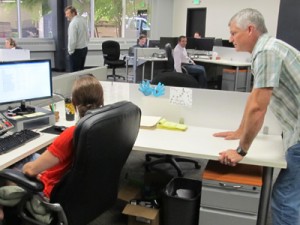 Epic River's RMCIT work site