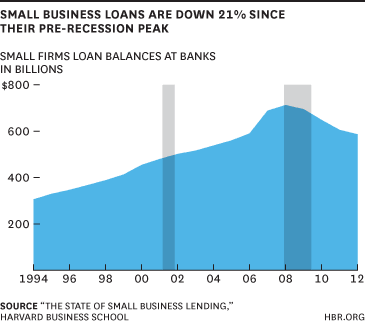 Harvard Business Review article postulated that lending technology could play a significant role in reviving America's small businesses. It's a captivating read. They pull out some fascinating numbers like these charts to show just how hard hit small businesses were and how long the road to recovery can be. As a founder of Epic River, I can relate. The cash flow concerns of small businesses can be crippling. When you put those concerns together with an economy struggling to hold it together, you see why HBR thinks technology aimed at improved access to loans for small businesses could really make an impact on the economy of the entire country.
You've probably read enough of my posts to realize that the MyLoans tie-in can't be too far around the corner. Well, here it is. MyLoans Healthcare Financing™ is one of those lending technologies. While online lending options like Funding Circle, LendingClub and Fundera are great technologies and play to the masses, MyLoans is focusing on one very specific vertical market and is offered directly to traditional lenders. In the article, the author hits on exactly the situation we have been witnessing for the last year:
These entrants may also push traditional lenders such as large banks and credit card companies to adopt new innovations, and use their large stores of borrower data and existing relationships with small businesses as a competitive advantage.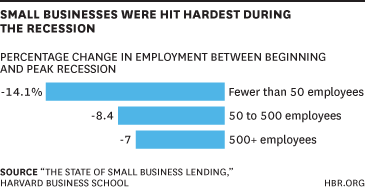 As the new technologies in the lending space get a foothold and offer fantastic service to their lenders and borrowers, MyLoans is perfectly positioned to be one of the innovative new options for traditional financial institutions. By leveraging relationships with existing hospitals, medical practices, and medical centers, MyLoans banks and credit unions are able to meet the needs of the small businesses in their communities in a fully regulated manner as not to open up the public to unfair lending practices or unnecessary risks to personal credit.
The more we talk to banks and review the shocking numbers around patient financing, we become more and more convinced the traditional lending institutions deploying MyLoans Healthcare Financing are head-and-shoulders above the rest of their market, and they will be the architects of the economic stabilization.
About MyLoans Healthcare Financing™
By providing patients with fast access to medical loans at a fair and unchanging interest rate, the MyLoans™ software by Epic River enables financial institutions to ease the financial stress of health care through collaboration with medical providers. Not only can medical providers offer patient financing for medical care needs, but doctors and hospitals alike can finally get immediate funding of their patient's outstanding balances. Additionally, financial institutions gain new customers and interest income with little administrative overhead. For more information, visit www.myloans.co.
About Epic River, LLC
Since its inception in 2005, Epic River has been providing high quality software services aimed at solving process-intensive problems. With a focus on high quality and rapid delivery, Epic River's methodology accelerates the process of innovation while keeping a firm grasp on the business case behind the application. The company's unique approach to the agile methodology and user experience ensures all parties work closely together every step of the way. Whether you're looking to expand into new technologies or markets, need a custom internal tool, assistance with architecture, or simply need someone you can trust to make technology decisions, Epic River is at your service. For more information, visit www.epicriver.com.