It's no secret that U.S. healthcare is tremendously expensive from every angle — and for every participant. But the reasons behind these expense may be more complex than initially thought.
A recent study from The Journal of the American Medical Association cited in The New York Times found that U.S.-based healthcare providers' complicated administrative systems cause us to spend much more on administrative costs than other developed countries. And, as you can tell from the chart below from the Centers for Medicare and Medicaid Services, administrative spending – including costs related to billing – continue to rise.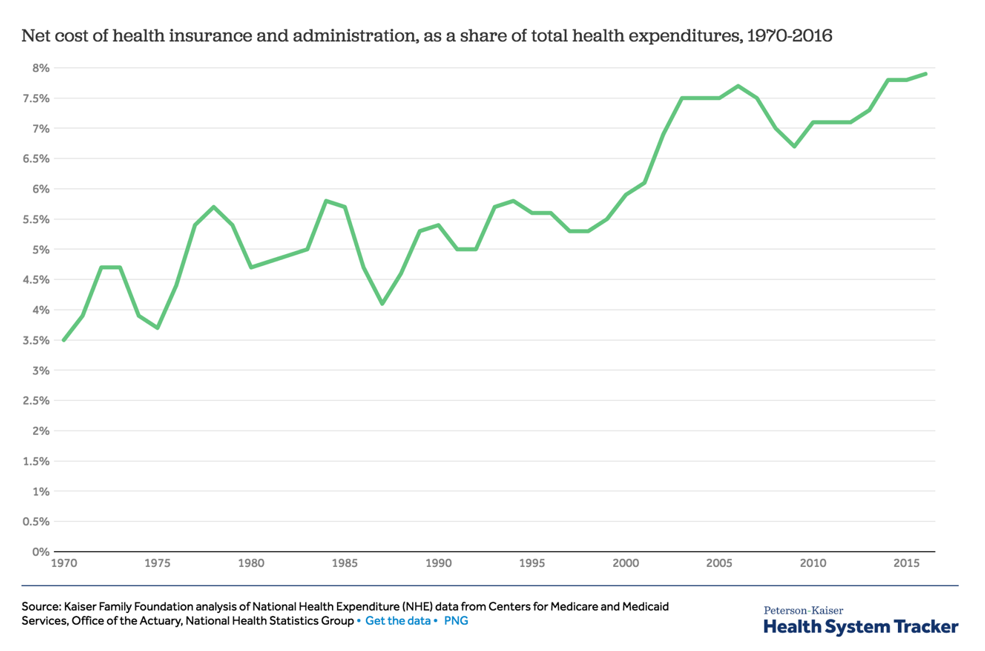 The numbers are staggering, and they are all the more so when you consider that the enormous administrative cost burden related to getting paid – which counts for nearly one-third (31%) of U.S. healthcare expenditures – is shared by nearly every practice in every specialty in every corner of the U.S. No one is immune. So don't feel alone if administrative spending in your facility is making you see red — and putting your finances in the red. Excessive administrative costs are a problem that affects all of us, whether we're providing healthcare or seeking it.
How to Cut Administrative Spending on Patient Billing
It's no secret that the task of managing payments and revenue cycles is oftentimes far afield from a healthcare provider's core competencies. These processes are made more complicated – and costlier – by three factors: complexity, variation, and friction. In the following list, we'll give you best practices to help reduce associated payments for each of these factors as it comes to patient billing.
Complexity – The key to reducing complexity for your administrative staff is to provide payment solutions that are applicable to every patient, regardless of credit history, current ability to pay, or citizenship. By utilizing a uniform payment solution, efficiency will rise, while costs associated with training, process documentation, and time waste will rapidly decline.
Variation – Each patient likely has a different idea about how they want to pay, what they can pay, what their insurance should pay, and when they will pay, all of which your administrative staff has to juggle and coordinate. Simplify the process as much as possible by offering one payment solution, preferably one that is outsourced to a seasoned financial institution, which can better shoulder the liability of variation.
Friction – There is a lot standing between your practice and full, timely payments for your work. This friction can cause your accounts receivable (AR) days to skyrocket, and might ultimately be the difference between profitability and loss. For nearly all providers we speak with, maintaining an internal payment plan is an enormous burden — and it just isn't resulting in the return on investment necessary to keep it going or invest further. Reduce the drag of friction by ditching your internal payment plan and partnering with a local bank to run it instead.
The takeaway here: offer one payment solution – available and applicable to every patient – and outsource its administration (and headaches) to a local bank.
Sounds pretty good, right? The question is how.
Enter Epic River Patient Lending. Our platform is a vehicle for providers to outsource internal payment plans to the collection experts: the banks! It is 100% free for healthcare providers and offers 100% payment for your work up front and in full. Through an easy-to-learn, fully automated, and wholly digital process, your patients take out low-interest, fixed-rate loans with a local bank to pay their medical debt. The bank then manages and administers the loan and all related collections.
Just imagine what your AR days – and bottom line – will look like. Or take it from Jim Keady of Keady Family Practice in New Hampshire who wrote: "Joining with Epic River may be one of the best things we have ever done financially for our company. The Epic River solution completely changed our profitability ratios to quickly put one of our clinics in the black for the first time."
Are you ready to revolutionize your patient payment processes? Book a half-hour demonstration today, and take the first steps down the road to reduced administrative spending and increased profitability.