It's no secret: Americans are drowning under heaps of medical debt. In fact, a recent study conducted by the Kaiser Family Foundation found that more than 25% of patients struggle to pay for the medical treatment they have received, and that medical debt is the number one cause of personal bankruptcy filings in America. These figures are staggering, and as a health care provider, you probably wish there was something you could do to lessen the financial struggle for your patients. Thankfully, there is! At Epic River, we can provide you with patient billing solutions that not only benefit your practice, but also your patients.
Our Patient Lending program makes it possible for you to receive 100% upfront payment for your services and offload payment processing and collections to a local financial institution, all while providing your patients with an easier solution that helps them get the care they need. Check out three reasons why your patients will love our patient billing solutions, then book your quick patient billing demo today!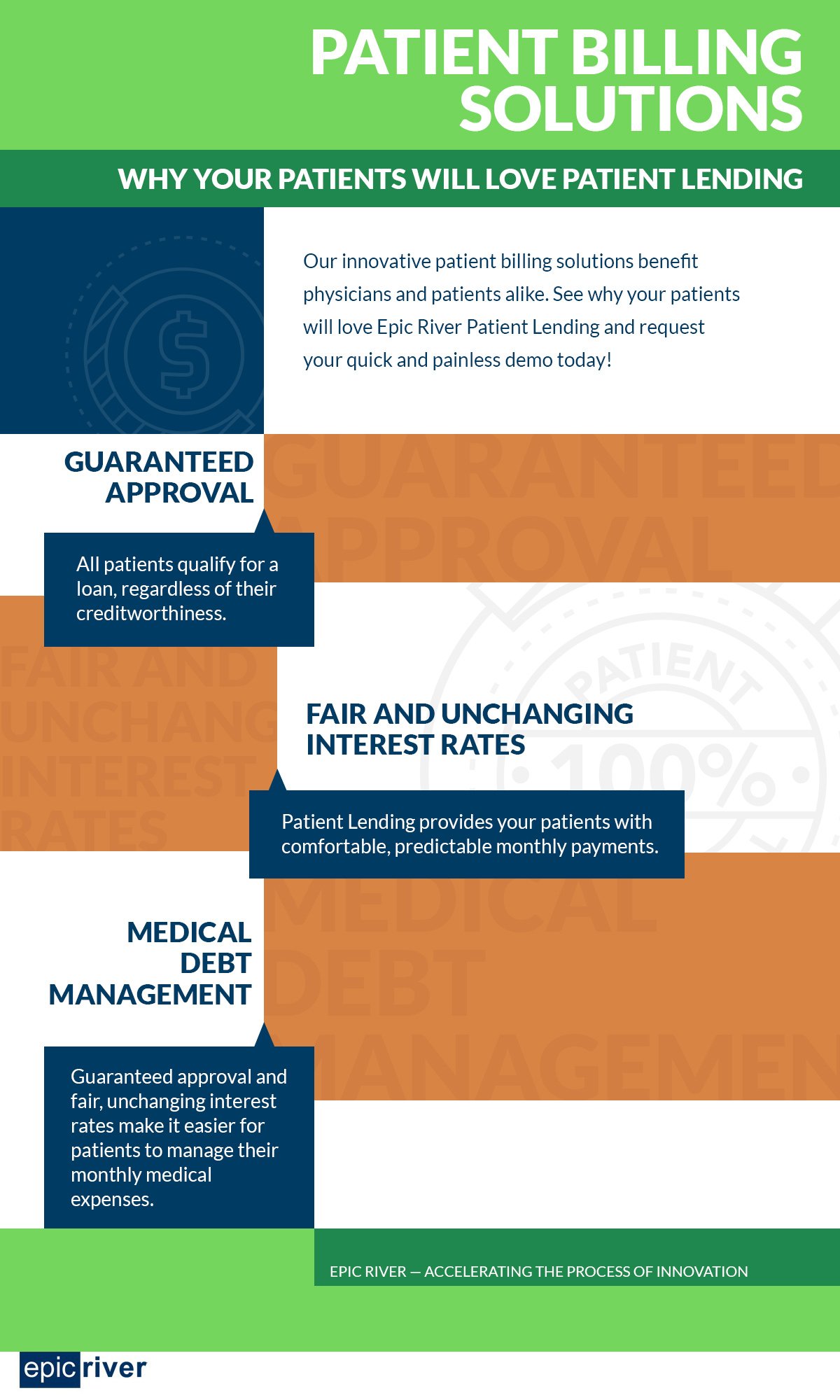 Benefits of Patient Billing Solutions
Guaranteed Approval
There is nothing worse than needing financial assistance, only to discover that you don't qualify for help. Imagine the disappointment a patient may experience if they are denied the financing they need to treat a medical condition. In fact, this lack of assistance leads many patients to forego getting the treatment they need for fear of receiving a medical bill they can't afford. At Epic River, we believe that all patients should have access to the health care they need, which is why every patient can qualify for a competitive loan, regardless of their creditworthiness.
Fair and Unchanging Interest Rates
Getting approved for financial assistance is one matter. Being able to afford the monthly payments that go along with it is quite another. Oftentimes, personal loan products come with astronomical interest rates that can fluctuate, leaving individuals with burdensome, unpredictable payments. Your patients will appreciate having the option of a no-hassle loan to help them cover deductibles, copays, and other related expenses, and they will love the fair and unchanging interest rates that accompany our patient billing solutions.
Medical Expense Management
Recent studies indicate that the number of patients pursuing the care they need is on the decline. In fact, 44% of Americans avoid getting medical care because of financial concerns. Offering your patients guaranteed loan approval and fair, unchanging interest rates makes it easier than ever for them to account for their medical bills in their monthly budget. In turn, this alleviates the financial burden that medical treatment can pose, providing patients with an easy way to manage their medical expenses and get the treatments they need.
Book Your Demo of Our Patient Billing Solution!
Are you searching for ways to empower your patients to pursue the care they need to maintain optimal health and wellness without suffering undue financial harm? If so, Epic River is here to be your partner by providing you with patient billing solutions that benefit your practice and your patients. More than 7,000 physicians have already discovered the incredible difference that the right billing platform can make for their practices, and some have lowered their days in accounts receivable (DAR) by as much as eight to 10 days.
Ready to learn more? Book your Patient Lending demo today!